Serving our community online is a priority for us. We want to give our congregation options to stay home and still worship and connect to one another. As you stay home, you are invited to plug in to any of these opportunities:
We will either Livestream or post a video of Sunday morning worship. Outdoor Worship is Sunday at 9:30am– go to the Crown Heights UMC Facebook page (you can watch worship anytime after it's posted). And in the "Coming Up in Worship" section of this webpage, we have a few links to watch worship services.
Giving online is available from our webpage. Look for the donate link at the top of the home page. 
______________________
You are invited to participate in a book study on 7 Days of Christmas: A Season of Generosity by Jen Hatmaker– Sundays November 1 through December 13, 4-5pm. Meet on the back patio of the church OR Zoom in to join in on the discussion.
Write up: 7 Days of Christmas takes on seven key areas—food, clothes, spending, media, possessions, waste, stress—and turns them into thoughtful and practical generosity that captures the true spirit of Christmas. The book contains snippets of Jen's journey throughout to offer insight, humor, ideas, facts, and encouragement for the reader to consider while embracing this change, if only for 24 hours at a time.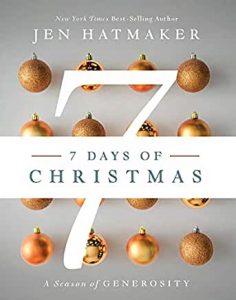 ______________________
ONLINE LEARNING VIDEOS– This is a discussion with Dr. Sharon Betsworth on the Apostles' Creed, based on the book Deeper Than Words. Watch as a mini class on the Creed.   https://vimeo.com/413811824
This is a video conversation with Dr. Amy Oden and some members of our church. I am including mostly her lecture portion, where she places Christian Mindfulness and experiential practices in our modern context. She explores the question, how do we learn more about God? Through study or prayer? Or both?  https://vimeo.com/432348651
This is a video of Dr. Amy Oden, preaching as our Holland Lecturer, on the topic of Christian Mindfulness. She led our church in worship on July 12, 2020. https://vimeo.com/438181124
JOIN US ON FACEBOOK– CROWN HEIGHTS UNITED METHODIST CHURCH