Our congregation reaches out to others with the love of Christ through our giving and our service. We support a number of United Methodist mission agencies throughout the year, with special offerings during Lent and Advent.
We see our building as a resource for our community. We are happy to host AA/ NA meetings on a regular basis. Other groups are welcome to call the office and request use of space (405-524-8428).
Monthly Missions
Our Church is committed to being in mission. We do a monthly mission project. They vary throughout the year. In the recent months, we have written encouraging notes to all the students at our local elementary school, worked on the church grounds, volunteered together at the Food Bank, and collected food for Skyline Urban Ministries. This is a great way to serving our community and getting to know the people of our church better.
As we live within the gathering restriction, we can still serve others!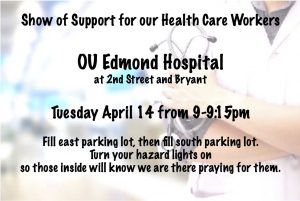 If you are able to get food/ medications or run an errand for someone not able to leave their house, let Trina know. If you are willing to send notes in the mail or call specific church members, let Trina know. We are still collecting 2nd hand jeans (any size, any condition) for Ice Angels Homeless Ministry. The youth are collecting hotel shampoos and conditioners. Consider baking bread for our visitors or cookies for Mobile Meals (freeze them until the proper time). On April 20, Mobile Meals will need 80 frozen meals to last our clients through another month. Pray for those in our community who are sick, hungry, and lonely. 
Skyline Urban Ministry— Skyline is still providing groceries on a drive-through basis. A staff person goes to each car, finds out how many people are in their household, and an appropriate sized bag is brought out. If you are shopping or cleaning out your pantry, please consider contributing any non-perishable food items. They are specifically asking for rice, instant oatmeal, canned meat, and peanut butter. There will be a box outside the church, under the mailbox. available from April 13 through April 30. 
Mobile Meals                 
We cook and deliver meals to about 20 people every Monday morning. Our church volunteers cook meals and deliver the meals around the Crown Heights area. We often need substitutes to cook or ask the church to provide special desserts. Contact Susan in the church office, 524-8428.
Whiz Kids Tutoring
Our church hosts a Whiz Kids after-school reading program, in conjunction with Mayflower Congregational Church, working with students The Boys and Girls Club.  They gather every Thursday during the school year, beginning at 4:00 pm, to share a substantial snack before one-on-one time with their assigned tutors.  We are always looking for more caring adults who like to read and are willing to make a difference in the life of an elementary-age student.  Whiz Kids' coordinators meet with the tutors each week to answer questions and encourage them in their important work.  Crown Heights UMC also hosts a holiday dinner for the Whiz Kids Program participants and their families.
Arts Academy
Since 2009, the Arts Academy at Crown Heights United Methodist Church has offered piano, violin, guitar, clarinet, drum, drawing, sculpting, and drama lessons to elementary students. Art and music students from area high schools and colleges, as well as a few adults, are the volunteer teachers for these students. The Arts Academy meets each Wednesday evening, providing practice instruments for the students either at the school or to take home. Volunteers are always needed to help with transportation each week, to provide a Bible story, and to help with supervision in the building during the lessons. Each year the students participate in a recital/showcase of their talent hosted by Crown Heights.