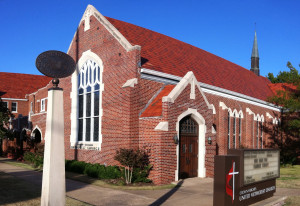 Crown Heights United Methodist Church has been sharing God's love in the heart of Oklahoma City since 1929. We are proud to be part of a vital and diverse neighborhood with a promising future.
We are a community of Christians who recognizes that we are all on a spiritual journey. As we worship, study, pray and serve together, our faith is stretched and encouraged. We welcome all to our worship services, study opportunities, mission outreach events, and music program, indeed, to all our varied activities.
Our Mission
Purpose Statement:  At Crown Heights United Methodist Church we are called . . .
To witness to God's love, grace, and acceptance, as revealed in Jesus Christ, through our words and our actions.
To equip and encourage one another to grow in our faith, and to serve in the power of the Holy Spirit, for the transformation of God's world.
What do we expect of disciples of Jesus Christ?
To pray for themselves and others, in corporate worship, small groups and on our own
To be present as often as possible in worship
To grow in their faith through Bible study, prayer, and service
To share their spiritual gifts with the church and the world, for the common good
To give generously (financially) to God's missions in the world, setting tithing as the goal
To serve our neighbors through hands-on missions connected with the church or other non-profit groups, and through our words and actions throughout the week
To witness to God's love, grace and acceptance as revealed in Jesus, through what we share verbally, through our attitudes and values, and through our behaviors, at home and in public.
To advocate for those who are experiencing injustice
Our Regular Sunday Schedule:
8:30 a.m. Traditional Worship Service with weekly communion
9:30 a.m. Fellowship time, coffee and donuts in the Education Building
9:45 a.m. Sunday School for all ages (Adult, Children & Youth)
9:45 a.m. – 10:45 a.m. Children's Breakfast in the Fellowship Hall, followed by Sunday School
11:00 a.m. Traditional Worship Service with monthly communion. Children join us for the first part of worship and go to Children's Church following the Children's Moment.
Meet Our Pastor
Reverend Trina Bose North
On June 5, 2016, we welcome Rev. Trina Bose North to Crown Heights UMC! She looks forward to meeting our church in worship and introducing her family (husband Justin, children Carter, Nathan and Maya).
Family
I met my husband, Justin North, at Oklahoma City University, and we married in 1999. Justin is a radiologist at the University of Oklahoma's Health Science Center.
We have three beautiful children. Carter is in 6th grade, Nathan is in 4th grade, and Maya is a Kindergartener. My family has been attending church at Mosaic UMC, which meets at Oklahoma City University. Most Sundays on our way home, we grab burgers at Tucker's on 23rd Street. I hope to continue this tradition with some of you!
Professional Background
I am a lifelong United Methodist and felt called to serve this church since I was a teenager.
I grew up in San Diego, California, attending First UMC of San Diego. As I graduated from high school, I wanted to go out of state for school and found my perfect match at Oklahoma City University. I studied religion, with a minor in women's studies. After college I went to seminary at Candler School of Theology in Atlanta, Georgia.
I was ordained an elder in the United Methodist Church in 2008. I have served two churches, Leonard UMC and Cashion UMC, and worked for Volunteers in Mission at the Conference Office. For the last few years, I have been on Family Leave so I could be at home.
Calling in Life
I see my life's calling in the words of Micah 6:8, What does the Lord require of you? To seek justice and love kindness and walk humbly with your God. This is my challenge everyday, and as your pastor, my task is to help each member of the congregation more fully live into justice, kindness, and a deeper relationship with God.
I value the distinctiveness of people and churches. And I am eager to know Crown Heights UMC and learn what your passions are. God has been active in your ministries, especially with your children and worship. I hope to continue these good works and grow them for the Kingdom of God.
"There is nothing more exciting than meeting new people, hearing their stories and getting inspired." —Judith Pichler
You may contact Pastor North here.