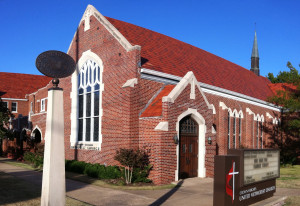 Crown Heights United Methodist Church has been sharing God's love in the heart of Oklahoma City since 1929. We are proud to be part of a vital and diverse neighborhood with a promising future.
We are a community of Christians who recognizes that we are all on a spiritual journey. As we worship, study, pray and serve together, our faith is stretched and encouraged. We welcome all to our worship services, study opportunities, mission outreach events, and music program, indeed, to all our varied activities.
In May of 2019, we became a Reconciling Church, meaning we are intentional about our welcome to LGBTQ people. We also commit ourselves to working within the United Methodist Church for full inclusion.
Our Mission
Purpose Statement:  To spread the love of God to our community:
by witnessing to God's love, grace, and acceptance, as revealed in Jesus Christ, through our words and our actions.
by 

equipping

 and encouraging one another to grow in our faith, and serving in the power of the Holy Spirit, for the transformation of God's world.
What do we expect of disciples of Jesus Christ?
To pray for themselves and others, in corporate worship, small groups and on our own
To be present as often as possible in worship
To grow in their faith through Bible study, prayer, and service
To share their spiritual gifts with the church and the world, for the common good
To give generously (financially) to God's missions in the world, setting tithing as the goal
To serve our neighbors through hands-on missions connected with the church or other non-profit groups, and through our words and actions throughout the week
To witness to God's love, grace and acceptance as revealed in Jesus, through what we share verbally, through our attitudes and values, and through our behaviors, at home and in public.
To advocate for those who are experiencing injustice
Our Sunday Schedule:
9:30 a.m. Sanctuary Worship
11am Outdoor Worship (bring your own chair and mask)
Because the health and wellbeing of our members is the top concern, the church will always follow the best recommendations of the healthcare professionals— masks, social distancing, cleaning. Working within the health guidelines, we will find ways to gather safely and see what works for our community.
Sundays at 11am, we will offer a shorter, family-friendly time of worship in the front yard of the church. Bring your own lawn chair, sit 6 feet apart, wear a mask.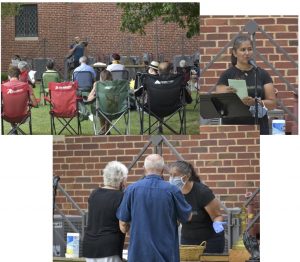 Outdoor Worship 6/28/20
SANCTUARY WORSHIP GUIDELINES  If inclement weather is expected on any Sunday morning, worship will move inside the Sanctuary, following these guidelines for safety:
Masks are required. Family units will be seated at least six feet apart. Once seated, try not to change seats.
Pews are marked off. Each pew can seat up to two people or one family unit.
Masks and hand sanitizer will be available at every entrance.
Doors will be open to eliminate touching of door handles, and air will be circulating during worship.
There will be no congregational singing, but we can have piano music or a soloist (12 feet from any other person).
We will not have nursery but will have activities for children in the back of the sanctuary.
Three balconies in the sanctuary offer more distance from others. The balconies on the north and south are smaller, room for one person or family unit. The west balcony is larger, room for 3 people or family units. Please look for signage as to where to sit. Do not sit on the row closest to the railing for the safety of the people underneath.
Before and after the service, please move quickly to the exits. If you would like to visit with others, try to do so outside.
Inside worship requires extra precautions to limit the spread of COVID-19. Also we will Livestream worship on Facebook and post videos so those who prefer home will have that option.
This is a difficult time. Please know, we respect the journey we are all on. We understand some people are worried about their health and feel the need to stay home. We understand some people are not just alone but are lonely. We understand some people miss sitting our beautiful sanctuary. We understand some people are searching for ways to serve God and our community. At Crown Heights UMC, we will work to provide worship, spiritual growth, missional opportunities, and connection to ALL our people.
Keep aware of the health recommendations: Wash your hands. Stay home. Wear a mask. Keep a 6 foot distance between you and others. Use extra precautions if you are in a vulnerable group, including older people and those with pre-existing medical conditions such as asthma, diabetes and heart disease. If you are sick, even a cold, diarrhea, and fatigue, please stay home and call your doctor.
Meet Our Pastor
Reverend Trina Bose North
On June 5, 2016, we welcomed Rev. Trina Bose North to Crown Heights UMC. Serving this church has been a joy of Trina's and her family's (husband Justin, children Carter, Nathan and Maya).
Family
She met her husband, Justin North, at Oklahoma City University, and they married in 1999. Justin is a radiologist at the University of Oklahoma's Health Science Center. They have three beautiful children. Carter is in 10th grade, Nathan is in 8th grade, and Maya is a 4th grader. Most Sundays after church they enjoy stopping at Big Truck Tacos or Tucker's for lunch. They love for church people to join them. It's a great way to get to know people.
Professional Background
Trina is a lifelong United Methodist and felt called to serve this church since she was a teenager. Trina grew up in San Diego, California, attending First UMC of San Diego. As she graduated from high school, she wanted to go out of state for school and found her perfect match at Oklahoma City University. She studied religion, with a minor in women's studies. After college Trina went to seminary at Candler School of Theology in Atlanta, Georgia. Trina was ordained an elder in the United Methodist Church in 2008. She has served two churches, Leonard UMC and Cashion UMC, and worked for Volunteers in Mission at the Conference Office.
Calling in Life
Trina sees her life's calling in the words of Micah 6:8, What does the Lord require of you? To seek justice and love kindness and walk humbly with your God. This is her challenge everyday, and as your pastor, her task is to help each member of the congregation more fully live into justice, kindness, and a deeper relationship with God.
You may contact Pastor North here.