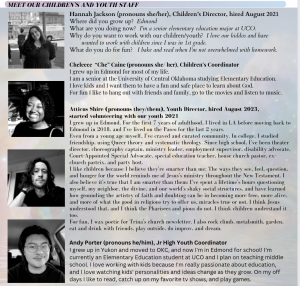 SUNDAY SCHEDULE
For our littles, Nursery is available from 8:30am-12:15pm.
For Preschool, Elementary Kids, and Youth, we offer Sunday School from 9:45-10:45am with breakfast and a lesson.
11am Service, all children and youth join for the beginning of worship. Kids are invited up for the Children's Moment, then can go for Children's Church. Youth stay for the whole service.
SPECIAL SUNDAYS
Sunday Dec 17- Children's Christmas Program, 11am Worship with Christmas party during Children's Church.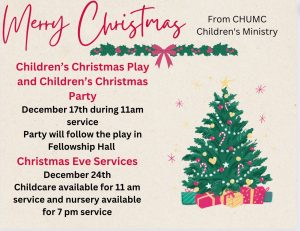 Arts Academy
Arts Academy is a program to expose elementary students to a visual or performing arts. Our teachers are high schoolers from Classen SAS and Bishop McGuinnes High Schools. Arts Academy meets Thursdays from 5:30-6:30pm. Our first session is October 19. More information is below:
Arts Academy student application 2023-2024
Whiz Kids Tutoring
Our Whiz Kids tutoring program to assist students from Putnam Heights Elementary with their reading! We meet each week on Thursday afternoons, from 4:00-6:00 pm. We always need more tutors. You could make a real difference in the life of your Whiz Kid! Join us! If you would like to know more, call us or e-mail us at: susan@crownheightsumc.org or 524-8428.
Girl Scouts

We are especially pleased to sponsor our multi-age Girl Scout troop #584, which is almost 6 years old.  We have girls from a variety of schools and backgrounds.  If you'd like to help or your daughter would like to participate,  contact Jamie Gross.
Vacation Bible School
Our church hosts Vacation Bible School in June each summer. We have about 50 children and youth attending. Our leaders are so good at providing yummy meals, making thoughtful crafts, doing cool science projects, playing fun games and learning exciting Bible stories.