OUR PLAN TO RE-OPEN
Because the health and wellbeing of our members is the top concern, the church will always follow the best recommendations of the healthcare professionals— masks, social distancing, cleaning. Working within the health guidelines, we will find ways to gather safely and see what works for our community. 
Sundays at 9:30am, we will offer a shorter, multigenerational time of worship in the frontyard of the church. We will Livestream for Facebook. Bring your own lawn chair, sit 6 feet apart, wear a mask.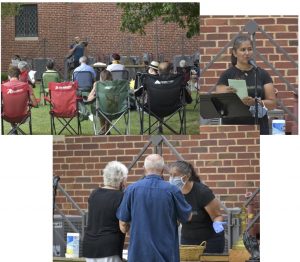 Outdoor Worship 6/28/20
We are monitoring the Covid-19 numbers in our state and deciding when is the right time to have Sanctuary Worship again. When inside worship is deemed safer, we will video for Facebook and our webpage. Members will wear a mask, social distance, no congregational singing, and no childcare. 
This is a difficult time. Please know, we respect the journey we are all on. We understand some people are worried about their health and feel the need to stay home. We understand some people are not just alone but are lonely. We understand some people miss sitting our beautiful sanctuary. We understand some people are searching for ways to serve God and our community. At Crown Heights UMC, we will work to provide worship, spiritual growth, missional opportunities, and connection to ALL our people.
Keep aware of the health recommendations: Wash your hands. Stay home. Wear a mask. Keep a 6 foot distance between you and others. Use extra precautions if you are in a vulnerable group, including older people and those with pre-existing medical conditions such as asthma, diabetes and heart disease. If you are sick, even a cold, diarrhea, and fatigue, please stay home and call your doctor.
August/ September Calendar
Outdoor Worship, Sundays 9:30am Livestreamed on Facebook
August 16—  Guest preacher Rev. Nancy Johnson
September 13—  Homecoming celebration
Zoom conversations, Sundays 7pm, directed conversation on Upper Room topics
Children and Youth Gatherings at parks,
Sunday August 9 at 4pm— Memorial Park
Sunday September 13 at 4pm— Crown Heights Park
Online Options:
We will livestream worship each Sunday morning. Check our Facebook page at 9:30am (or anytime after that) or look for a link on this webpage.
90th Anniversary Celebration
On September 8, 2019, Crown Heights UMC celebrated 90 years of ministry. In worship we lit candles for members who laid the foundation of faith on which we now stand. We learned more about our history, especially what the Methodist Episcopal Church looked like back in 1929 in Oklahoma. Rev. Trina Bose North preached on God's presence finding us and freeing us to live fully. In between services, the church gathered for a fun time to fellowship. We enjoyed delicious crepes from Crepe Brewers food truck. Musician Steven Stark entertained us on the back patio. And we displayed pictures of the past 90 years. We give thanks for the ministries of this church for the last 90 years, and pray God's blessings on our future together. May Crown Heights United Methodist Church continue to worship and serve this community in the years to come.

2019 VBS a Huge Success
Vacation Bible School was June 17-20, 2019. Our theme was Jerusalem Marketplace, and the decorations set the scene of being in a bizarre in Old Jerusalem. We had 45 children attend and 12 youth participate as helpers. The kids were fed dinner and told a Bible story at the start of each evening. Then they rotated through crafts, cooking, and games. 
All our cooks provided yummy, healthy meals. All our teachers were well prepared and engaging. All our shepherds were fun and loving. All our drivers were kind and efficient. Thank you to everyone who helped with VBS. With everyone doing their part, the work was shared between many.
Shalom to each of us! We earned a little peace and quiet after a full week of fun!
Mission Trip to Sunflower, Mississippi
December 26-30, 2017 to Sunflower, Mississippi
Five years ago, Rev. Veronica Pritchard was appointed to a tiny church in Sunflower, MS. She was there to close the doors; they were just too small. But when she arrived, Veronica saw the needs of the poor community surrounding the church and got to work instead. She helped transform her church into a center where mission teams come to work on the homes in their area. Veronica says, "Delta Grace is a year-round mission hub that provides beds, showers, kitchen facilities, and mission opportunities for mission teams. Teams work on homes of many who have lost hope and do not know what tomorrow brings. Our purpose is to match mission teams with mission work within an hour's drive. Our prayer is that the volunteers will transform the lives of those they serve and in turn have their lives transformed." Check out their website at deltagrace.org.
Crown Heights UMC is sent 11 mission team members to go to Sunflower, Mississippi. We left Tuesday December 26, and returned Saturday December 30, 2017. We drove to Mississippi and stay in the Delta Grace dorms. We did light construction work for three days before returning home.