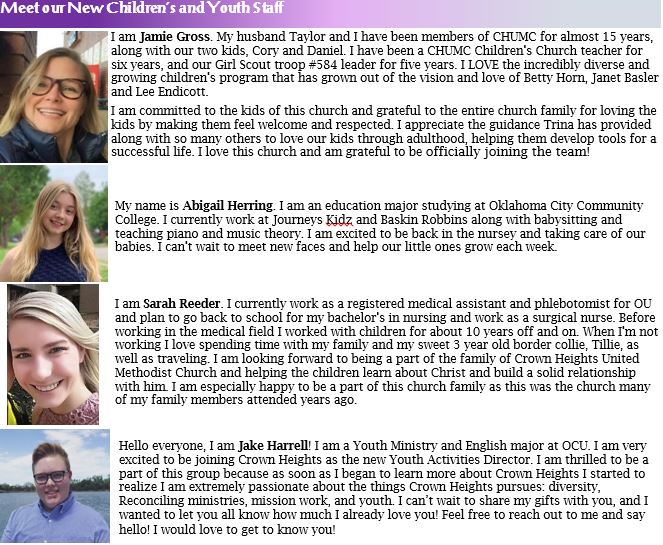 With the restrictions on group gatherings, our Children's Ministry has come up with a creative way of teaching and remaining connected to our children and youth. Starting in June, all children/youth (ages 2-18) will be mailed a Bible lesson. Kids and youth will be mailed the first lesson. Each lesson includes a pre-stamped way to mail it back to the church. If the kids mail them back in to us, they will be sent the next lesson. They will have an opportunity to complete 10 lessons, starting anytime. There are prizes as they work to complete their lessons. 
Do you have any kids in your life whom you would like to have these lessons mailed? Let Susan in the office know. We would be glad to include them.
Child Care for Worship
During the Pandemic, we are childcare during both services on Sunday mornings. There will be outside activities or activities in the Fellowship Hall for the kids who attend. 
Girl Scouts

We are especially pleased to sponsor our multi-age Girl Scout troop #584, which is almost 6 years old.  We have girls from a variety of schools and backgrounds.  If you'd like to help or your daughter would like to participate,  contact Jamie Gross.
Whiz Kids Tutoring
Our Whiz Kids tutoring program to assist students from Putnam Heights Elementary with their reading! We meet each week on Thursday afternoons, from 4:00-6:00 pm. We always need more tutors. You could make a real difference in the life of your Whiz Kid! Join us! If you would like to know more, call us or e-mail us at: susan@crownheightsumc.org or 524-8428.
Vacation Bible School
Our church hosts Vacation Bible School in June each summer. We have about 50 children and youth attending. Our leaders are so good at providing yummy meals, making thoughtful crafts, doing cool science projects, playing fun games and learning exciting Bible stories.
Children's Church Christmas Play
A glimpse at our children's program, Coming Home. Our kids did great- they all hit their lines and sang all three verses of Away in the Manger. Thank you, Madison Rubino, for making it happen! We loved it!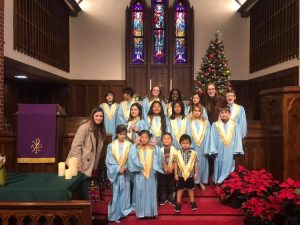 CLICK BELOW FOR 2017 CHILDREN'S CHRISTMAS VIDEO:
https://photos.google.com/share/AF1QipP3eaRCDiFyMpQauW4g69lFX_79PY0BIdFIA-A_oy_RCeblKMyOR-DlQBAcTlq9xw/photo/AF1QipP8MekCu7OveAVIMVl7ZrH6fd9YrMqtE8noeOZ4?key=SDhqeUhkblZjNGVMX0F3V0l2bFBqUzZYTGNuWDl3