Child Care
Nursery and child care for children up to six years old are available beginning at 8:15 am through 12:15 pm every Sunday.  We have a special room for infants and new toddlers, separate from the older children.  Our experienced child care staff will text you or come get you, should your child be overly upset or show signs of becoming ill.
Children's Sunday School
Our children enjoy age-appropriate Sunday School lessons, beginning at age 3 through 5th grade.  Our older elementary children are always learning more about how to use their Bible, which is presented to all our participants when they enter third grade.  Sunday School meets from 10:20 am to 11:00 am.  Most of our children also stay for Children's Church.
Children's Church
Our church vans pick up as many as 30 children each week who  participate in our Children's Church program.  They begin with breakfast at 10:00 a.m., then start Sunday School at 10:20 am. At 11:00 a.m. they are brought into the sanctuary for the beginning of the second worship service. The children are always pleased to greet people, shaking hands with lots of people before being seated for the prelude, call to worship, the first hymn, and the opening prayer.  We teach the children how to follow along with the hymns and encourage them to participate in the unison prayer.  They then spend a few moments with our pastor, who introduces them to the Bible story and theme of the service.  The children then go up to the children's wing to enjoy a time of singing, dancing and stories.
Whiz Kids Tutoring
Our Whiz Kids tutoring program to assist students from Putnam Heights Elementary with their reading! We meet each week on Thursday afternoons, from 3:00-5:00 pm. We always need more tutors. You could make a real difference in the life of your Whiz Kid! Join us! If you would like to know more, call us or e-mail us at: susan@crownheightsumc.org or 524-8428.
Arts Academy
Arts Academy is an after-school program exposing elementary kids to the arts. We offer individual lessons in a variety of arts and music, taught mostly by talented high school students. Each Wednesday afternoon, Crown Heights United Methodist Church houses about 50 budding artists. The children spend a full school year learning to sing, sculpt, draw, and play guitar, piano or violin.
Our children live in the Putnam Heights and Crown Heights area of Oklahoma City. Many of our high school teachers come from Bishop McGuiness School, Harding Charter High School, and Classen School of Advanced Studies.
Our Children are passionate about their work. They fill the building with love and energy. They made us laugh and fill each week with adventure.
Children's Church Christmas Play
A glimpse at our children's program, Coming Home. Our kids did great- they all hit their lines and sang all three verses of Away in the Manger. Thank you, Madison Rubino, for making it happen! We loved it!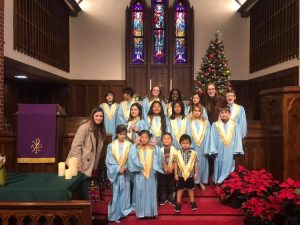 CLICK BELOW FOR 2017 CHILDREN'S CHRISTMAS VIDEO:
https://photos.google.com/share/AF1QipP3eaRCDiFyMpQauW4g69lFX_79PY0BIdFIA-A_oy_RCeblKMyOR-DlQBAcTlq9xw/photo/AF1QipP8MekCu7OveAVIMVl7ZrH6fd9YrMqtE8noeOZ4?key=SDhqeUhkblZjNGVMX0F3V0l2bFBqUzZYTGNuWDl3
Vacation Bible School
Our church hosts Vacation Bible School in June each summer. We have about 50 children and youth attending. Our leaders are so good at providing yummy meals, making thoughtful crafts, doing cool science projects, playing fun games and learning exciting Bible stories.
Girl Scouts 
We are especially pleased to sponsor our Girl Scout troop #584, which is now over a year old.  We have girls from a variety of schools and backgrounds.  If you'd like to help or your daughter would like to participate,  contact Jamie Gross.