Ways You Can Serve
Monthly Mission Projects: Our Church is committed to being in mission. We do a monthly mission project. They vary throughout the year. In the recent months, we have written encouraging notes to all the students at our local elementary school, worked on the church grounds, volunteered together at the Food Bank, and collected food for Skyline Urban Ministries. This is a great way to serving our community and getting to know the people of our church better.
SEPTEMBER 2022- For recovery month, we want to support a sober livng living house. They consistently need: toilet paper, paper towels, laundry detergent, all hygiene items. More information will follow soon. Join on Sunday, September 25, 2022 to celebrate recovery with cake after worship. We will put out a donation basket. We would like to raise $250 as a scholarship for someone to go through rehab. The cost of rehab
AUGUST 2022-  We are collecting school supplies to hand out to Putnam Heights Academy and Wiley Post Elementary School. If you have any paper, folders, office supplies, or pencils, bring them to the church by Sunday August 14. We will be distributing school supplies on Monday August 15.
JULY 2022- We are collecting school supplies to hand out in August. If you have any paper, folders, office supplies, or pencils, bring them to the church. We will be distributing school supplies mid-August.
JUNE 2022- We have been assigned our third/ fourth apartments for a family of 9 (3 generations). We need a crew to move items from the church to the apartment. Moving day will be Saturday, June 18.
Summer Recharge is a school program for Afghan students and new English learners to practice their language skills. Through the month of June, they are asking for adults to read with the kids from 9-10am. Crown Heights UMC is covering Wednesdays (June 8, 15, 22, and 29). 
MAY 2022- On Sunday May 1 as we celebrate our graduates, we want to thank the teachers of our church. Come, sign cards to each teacher. The church will give a $25 gift card to Walmart to help with classroom supplies.
APRIL 2022- Saturday April 2, we need church volunteers to host and lead teams for OU's Big Event Workday, 9:30am-2pm.
MARCH 2022–  We have reserved a date with the Regional Food Bank of Oklahoma to help sort and package food. We have 25 spots available for Thursday, March 3rd, from 6:30-8:30pm. All volunteers must be 8 years of age or older, and anyone under 18 years of age must have a completed Parental Consent Form. Call or email Susan at the church office to sign up or get more information.
CHUMC Care Project- Afghan Refugees- Working through the Spero Project and Catholic Charities, Crown Heights UMC has committed to furnish and supply 3 homes for arriving Afghans. We want to be God's welcome and love in Oklahoma for these displaced people, relying on the kindness of strangers to make Oklahoma home.
NOVEMBER 2021 Care Project- Raising money for:
Household items not donated

Mattresses, pillows, sheets

(must be new)

Gift cards to Walmart, Target, etc. for groceries

Money to help with rent after the 90 days
OCTOBER 2021 Care Project- We are collecting items needed to furnish home. Please donate new or gently used items on this list:
Furniture (sofa, loveseat, chair, small dining room table and chairs, bed frames and box springs, end tables- new or good used condition)

Other household items (lamps, linens, storage pieces/ bins, microwave, kitchen items- new or good used condition)

Toiletries and personal items (men, women, children)

Cleaning supplies

Non-perishable food
SEPTEMBER 2021- Come, bid on a delicious meal, delivered to your door! The top 3 bidders and 1 raffle winner will all have meals delivered Sept 26 at 5:30pm. The youth are the cooks and the money goes to help the refugee families at our church.
AUGUST 2021- We will be giving cards and a $5 Sonic gift cards to our Postal Carriers. The church is providing the card, you include the gift card, and leave it out for your Postal Carrier. Give your card by August 14.
JULY 2021-  Please, consider making a casserole or 2 for the church freezer to be used for Mobile Meals. To help our devoted cooks, let's provide the main course of the meal so they only have to worry about the sides. Any kind of casserole is appreciated.
JUNE 2021- Members are invited to participate in the Church World Service Ration Challenge. We will commit to eating only the rations provided to refugees in a camp. It's a fundraiser and an exercise in compassion. Join us for worship on June 13 to hear stories from our refugee families.
APRIL 2021- We had church members supervise and host a fabulous team from OU's Big Event Workday on Saturday April 10.
MARCH 2021- Putnam Heights Academy is an alternative school near the church. We collected 150 $10 gift cards to Sonic, one for each student as the school year comes to an end.
FEBRUARY 2021- COVID has hit our hospitals, clinics, and skilled nursing facilities very hard. We are grateful for all the people on the front lines, especially the doctors, nurses, and staff from our church. We sent trays of homemade cookies with our medial professional members to their places of work. 
JANUARY 2021– Our church's mission for this month is to help stock the freezer for Night Shelter, offering temporary housing for our houseless population. Members donated frozen meals (store bought or homemade) through our church.
DECEMBER 2020– Through Neighborhood Service Organization, we adopted 2 clients for Christmas. Thanks to our members for buying towels, clothes, fluffy pillows, and cowboy boots to sweeten Christmas for our 2 men!
NOVEMBER 2020– Thanksgiving Bags– Throughout the month of November, we collected grocery bags for Skyline Urban Ministries. We donated 70 bags to Skyline and kept 30 for our church pantry.
OCTOBER 2020– A fundraiser for our church's missions- we are mailing out Halloween treats to your child or adult friends. You give the church office names and addresses for anyone you would like to send a Halloween card and candy, we will take care of the rest! Cost is $10 per name.
SEPTEMBER 2020– Throughout this month, our church committed to registering people to vote. We sent registration forms and absentee ballot forms to 5 colleges and set up 3 booths in church parking lots.
AUGUST 2020– Church World Service (CWS) is a ministry supported by the United Methodist Church, bringing aid to those affected by disasters, both natural or manmade. This year as hurricane season approaches, they are low on Hurricane Kits. We assembled 5 some kits and mailed them CWS's distribution centers.
JULY 2020– Skyline Urban Ministry— Skyline is still providing groceries for the community. The demand is big right now. If you are shopping or cleaning out your pantry, please consider contributing any non-perishable food items. They are specifically asking for rice, instant oatmeal, canned meat, and peanut butter. 
JUNE 2020– Dress for Success Oklahoma City empowers women to achieve economic independence by providing a network of support, professional attire and the development tools to help women thrive in work and in life. Their building was burned and all inventory lost on May 30, 2020. We helped restock their closets. Women, thank you for all your second-hand professional clothes.
---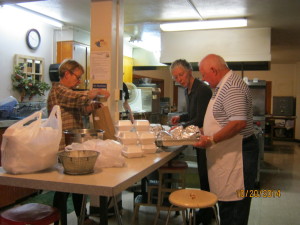 Mobile Meals: For almost 25 years, our church has participated in Mobile Meals, a national program bringing hot, nutritious meals to older, homebound adults. Each Monday morning our church volunteers cook a delicious meal and deliver those meals to about 20 people. This is an important ministry and service. It is a safety net for a vulnerable group in our society, allowing them to maintain their independence while providing essential care. We can always use help with cooking, driving or helping deliver the meals. Contact Susan in the church office, 524-8428.
Arts Academy: We offer individual lessons in a variety of arts and music on Wednesday evenings, taught by talented high school and college students. We need help with transportation, coordination and supervision. To learn more contact Janet Basler at 229-3041.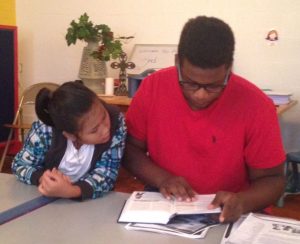 Whiz Kids Tutoring: On Thursday afternoons we provide one-on-one tutoring for children from Putnam Heights Academy who need help with their reading. Training is provided. You can change a child's life! Contact Janet Basler at 229-3041.
Children's Church: On Sunday mornings we provide Sunday School and a special Children's Church program for children in our area, many of whom come from refugee families. We need help with transportation, food, assisting with lessons, etc. Call Susan at 524-8428.