Ways You Can Serve
Monthly Mission Projects: Our Church is committed to being in mission. We do a monthly mission project. They vary throughout the year. In the recent months, we have written encouraging notes to all the students at our local elementary school, worked on the church grounds, volunteered together at the Food Bank, and collected food for Skyline Urban Ministries. This is a great way to serving our community and getting to know the people of our church better.
JUNE- Dress for Success Oklahoma City empowers women to achieve economic independence by providing a network of support, professional attire and the development tools to help women thrive in work and in life. Their building was burned and all inventory lost on May 30, 2020. Help restock their closets. Women, we need all your second-hand professional clothes. Get these items to the church by June 26.
JULY- Skyline Urban Ministry— Skyline is still providing groceries for the community. The demand is big right now. If you are shopping or cleaning out your pantry, please consider contributing any non-perishable food items. They are specifically asking for rice, instant oatmeal, canned meat, and peanut butter. We are collecting now through August.
AUGUST- Church World Service (CWS) is a ministry supported by the United Methodist Church, bringing aid to those affected by disasters, both natural or manmade. This year as hurricane season approaches, they are low on Hurricane Kits. We can help by assembling some kits and mailing them CWS's distribution centers. 
Needed-
– Five dust masks (x 5)
– Four scouring pads (x 5)
– 5 scrub brushes
– 5 packages of 48-50 clothespins
–  5 clotheslines, two 50 ft. or one 100 ft.
– Seven sponges, including one large (x 5)
– Eighteen reusable cleaning towels (e.g. Easy Wipes) (x 5)
– 5, 16-28 oz. bottle of liquid disinfectant dish soap
– 5, 12-16 oz. bottles of household cleaner that can be mixed with water (no spray bottles)
– 5, 50 oz. or two 25 oz. bottles of liquid laundry detergent  
– 5 pairs work gloves, cotton with leather palm or all leather
– 24-28 heavy duty or contractor type 30-45 gallon trash bags (x 5)
– 5,  6-9 oz. bottles of non-aerosol insect repellent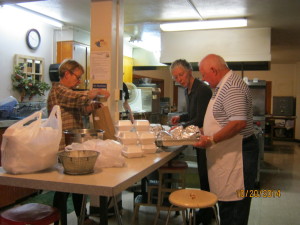 Mobile Meals: We cook and deliver meals to about 20 people every Monday morning. We can always use help with cooking, driving or helping deliver the meals. Contact Susan in the church office, 524-8428.
Arts Academy: We offer individual lessons in a variety of arts and music on Wednesday evenings, taught by talented high school and college students. We need help with transportation, coordination and supervision. To learn more contact Janet Basler at 229-3041.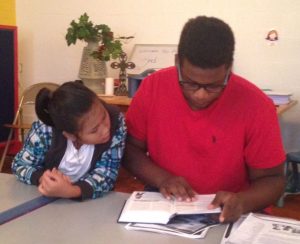 Whiz Kids Tutoring: On Thursday afternoons we provide one-on-one tutoring for children from Putnam Heights Academy who need help with their reading. Training is provided. You can change a child's life! Contact Janet Basler at 229-3041.
Children's Church: On Sunday mornings we provide Sunday School and a special Children's Church program for children in our area, most of whom come from refugee families. We need help with transportation, food, assisting with lessons, etc. Call Susan at 524-8428.
Youth Sponsors:  Our youth group meets once a month on Sunday afternoons.  We need adults who are willing to be present and/or drive the church van to provide transportation for the youth.