Summer Happenings!
July 7-11 Sunday- Thursday- Youth Mission Trip to Dallas; 
July 9 Tuesday- Finance Committee, 5:30pm; 
July 21 Sunday- guest speaker Stacy Ninness (NSO), both services; 
July 28 Sunday- Family Meal (free childcare) from noon to 2pm;
August 4 Sunday- Children's Pool Party at Judge Amick's; 
August 7 Wednesday- Ladies' Day Out, 11am; 
August 14 Wednesday- Ministry Resource Team, 6pm; 
August 18 Sunday- Youth Colorfest; 
Reconciling Church News
On May 19, 2019, Crown Heights UMC voted to affiliate with the Reconciling Ministries Network, which advocates for full inclusion of LGBTQ people within the United Methodist Church. And we adopted this statement:
"Crown Heights United Methodist Church is dedicated to personifying inclusion and equality for ALL children of God. We welcome people of every sexual orientation, gender identity, age, race, class, nationality, and mental or physical ability to be in ministry with us. We want our community to recognize Crown Heights as a safe haven where all people are welcomed, affirmed, loved, and supported by the members of our congregation. We call our church members to be the extended hand of God.
Ephesians 4:4-6 "There is one body and one Spirit, just as you were called to one hope when you were called; one Lord, one faith, one baptism; one God and Father of all, who is over all and through all and in all."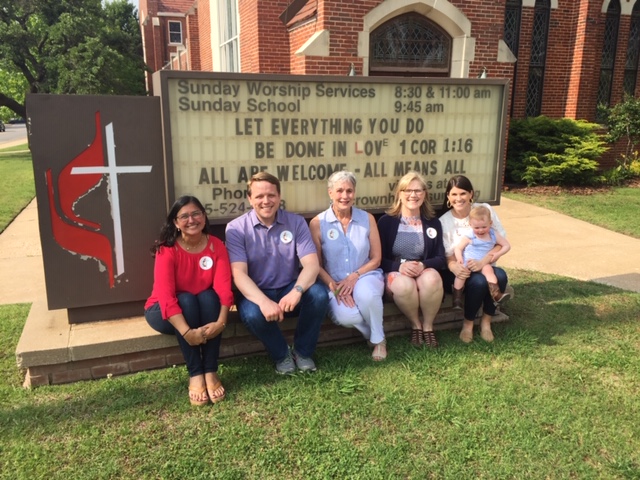 2019 VBS a Huge Success
Vacation Bible School was June 17-20, 2019. Our theme was Jerusalem Marketplace, and the decorations set the scene of being in a bizarre in Old Jerusalem. We had 45 children attend and 12 youth participate as helpers. The kids were fed dinner and told a Bible story at the start of each evening. Then they rotated through crafts, cooking, and games. 
All our cooks provided yummy, healthy meals. All our teachers were well prepared and engaging. All our shepherds were fun and loving. All our drivers were kind and efficient. Thank you to everyone who helped with VBS. With everyone doing their part, the work was shared between many.
Shalom to each of us! We earned a little peace and quiet after a full week of fun!
Mission Trip to Sunflower, Mississippi
December 26-30, 2017 to Sunflower, Mississippi
Five years ago, Rev. Veronica Pritchard was appointed to a tiny church in Sunflower, MS. She was there to close the doors; they were just too small. But when she arrived, Veronica saw the needs of the poor community surrounding the church and got to work instead. She helped transform her church into a center where mission teams come to work on the homes in their area. Veronica says, "Delta Grace is a year-round mission hub that provides beds, showers, kitchen facilities, and mission opportunities for mission teams. Teams work on homes of many who have lost hope and do not know what tomorrow brings. Our purpose is to match mission teams with mission work within an hour's drive. Our prayer is that the volunteers will transform the lives of those they serve and in turn have their lives transformed." Check out their website at deltagrace.org.
Crown Heights UMC is sent 11 mission team members to go to Sunflower, Mississippi. We left Tuesday December 26, and returned Saturday December 30, 2017. We drove to Mississippi and stay in the Delta Grace dorms. We did light construction work for three days before returning home.