Watch this video made to celebrate our first anniversary as a Reconciling church. Way to go, Crown Heights UMC!
From the Gazette:
Open hearts– An Oklahoma City church is the latest to affirm its support for members of the LGBTQ+ community.
BY MIGUEL RIOS
Miguel Rios
Crown Heights United Methodist Church is the fourth Oklahoma church to join Reconciling Ministries Network, a group of churches working for full inclusion of LGBTQ+ people.
Crown Heights United Methodist Church is the latest Oklahoma church to join Reconciling Ministries Network (RMN). An organization primarily made up of United Methodist organizations and individuals, RMN seeks to affirm and find justice for "people of all sexual orientations and gender identities."
Crown Heights is the fourth church in the state to join RMN, in addition to Mosaic United Methodist Church (UMC), St. Stephens UMC and St. Paul's UMC. Along with the four churches, 17 other groups in Oklahoma are affiliated with Reconciling Ministries Network.
"After the United Methodist Church's General Conference in late February, where the direction of the denomination reinforced and strengthened the penalties against gay marriage and gay ordination, my church had a strong reaction," said Rev. Trina Bose North, Crown Heights senior pastor. "Many within my church worried about calling this United Methodist Church their home when it didn't feel so comfortable anymore."
United Methodist Church delegates from around the world voted 53 to 47 percent to adopt the Traditional Plan, which doubles down on and enforces the church's historical stance against homosexuality and closes loopholes that allow for LGBTQ+ clergy.
"When the denomination came out against gay marriage and gay ordination, many in my church felt like they had to speak out in order for our church to remain inclusive and open to all people," North said. "We had this reconciling group within our church who invited the larger church into this conversation of becoming a reconciling church, and that really started a lot of conversation."
Crown Heights' reconciling group sent out a letter March 27 to the rest of the church. In the following two months, the congregation came together through Bible studies, open sharing and meetings to discuss inclusion and affiliating with RMN.
Lane Neal, chairman of the church's board of trustees and its reconciling group, said it felt important to take a position on the issue.
"I have been a lifelong Methodist," he said. "I was always raised with the belief that Methodism was a denomination that was open to everyone, and as I got older … learned that that's not the case. I, like so many people, have LGBT family and friends. The direction that the larger church was taking was inconsistent with the way our local church was operating and with my own personal beliefs. … We just felt like it was important, not only for us as a congregation to take on the issue, but also to make sure that our friends and neighbors in the Oklahoma City community knew where Crown Heights stood on the issue.
"'Open Hearts, Open Minds, Open Doors' — that's the slogan of the United Methodist Church. … A large part of my life attending Methodist churches have been led by women pastors, which I know other denominations don't allow. When it comes to communion, our communion table at every United Methodist Church in the world, it is open to everyone. So that's kind of the backdrop of most people's experience with the United Methodist Church. When the church reinforced its position on not ordaining LGBT people and not allowing Methodist ministers to preside over LGBT weddings, it really exposed something that I think a lot of us have just not paid attention to because that's not the experience we were having at Crown Heights."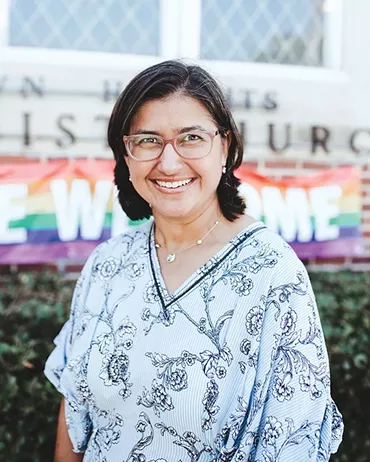 Rev. Trina Bose North wants all people to feel welcome at Crown Heights United Methodist Church while working to impact change within the church.
Crown Heights held two votes at a May 19 church conference. One vote was to adopt a statement of inclusivity, which passed with 97 percent support, and one vote was to join RMN, which passed with 84 percent support.
"It was emotional, and it was not a unanimous decision," North said. "There were people opposed to joining RMN for a couple of good, legitimate reasons. For example, there was hesitation for our church to affiliate with any outside organization at all; we've never done that in our history. … The biggest worry people had in affiliating was associating with an outside group, that RMN would then speak for us, that whatever they did became our voice. But we are still Crown Heights United Methodist Church. Our church did not change overnight by joining RMN. We are still the same people. Who we were yesterday is who we are today. This church has always been a church where people of all sorts of different backgrounds feel welcome."
The church's statement of inclusivity officially affirms those beliefs.
"Crown Heights United Methodist Church is dedicated to personifying inclusion and equality for ALL children of God," the statement reads. "We welcome people of every sexual orientation, gender identity, age, race, class, nationality, and mental or physical ability to be in ministry with us. We want our community to recognize Crown Heights as a safe haven where all people are welcomed, affirmed, loved, and supported by the members of our congregation. We call our church members to be the extended hand of God."
Despite the church's statement on inclusivity and affiliation with RMN, it is still limited by the rules of the UMC. That means it cannot conduct same-sex weddings or ordain LGBTQ+ people. But Neal said it was still crucial to take a stance.
"As a church congregation, you develop close personal relationships with other people in the congregation.And through our ministries, we work with a whole lot of programs in the Oklahoma City community. We didn't want to lose that," he said. "The alternative for a lot of people was looking for different congregations and basically leaving Crown Heights Church. Adopting the statement and affiliating with the Reconciling Ministries Network basically allowed us to stay together in the congregation, to keep as many people as we could together while making sure that everyone who walks in our door and everyone who engages with our congregation knows that we're committed to full inclusion for all people."
North hopes people will see Crown Heights standing in solidarity with the LGBTQ+ community as it also works to impact change within the denomination.
"If we don't make it known that we are a church who welcomes all, then our community won't know that. If all you know about the United Methodist Church is that we don't ordain gay and lesbian people, then we don't think anyone in our community would feel safe to come in, that anybody in the LGBTQ community would feel safe to even walk through our doors," she said. "So we want our church to be known as a place where people are safe to enter. Our goal is to pass on the love of God to everyone. … What's truly at stake here is a message of God's love for everyone. The reason why it's important for Crown Heights to send this message out to the LGBT community is because we want to make sure that gay, lesbian, trans people are hearing the good news that God loves them."
A group of Crown Heights members represented the church in the Oklahoma City Pride parade last Saturday.
Visit crownheightsumc.org.
(From the Oklahoma Gazette, published June 25, 2019)