April 12— Sunday morning-  Christ is risen! Hallelujah! Please join us this Easter for worship on Facebook Livestream at 10am. Even though we will not gather in person, the promise of Easter comes none the less. God makes spring out of winter, just as God makes life out of death. Let's look for signs of New Life together!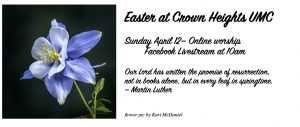 Join us on Saturdays at 3pm on Facebook (Crown Heights United Methodist Church page) for a worship livestream. 
April 18— Join us this week as Rev. Trina Bose North reads 1 Corinthians 1:18-25 and preaches a sermon called "Called to Foolishness."
May 2— This Saturday at 3pm we will talk about the work of a living faith. With Easter behind us, we may feel like we are wilting like cut wildflowers. We may be wondering what is ahead. Our sermon is called "Discipleship Never Ends."
May 9— This Mother's Day, join us as we honor the women in our lives. 
May 16— It's been a year since we voted to become a Reconciling congregation. This Sunday we celebrate our anniversary. God's love is for everyone! At Crown Heights UMC, we know this to be true!
May 23—On the morning of May 24, 1738, John Wesley worshipped in Aldersgate, London. There he experienced God's Spirit: 'While he was describing the change which God works in the heart through faith in Christ, I felt my heart strangely warmed. I felt I did trust in Christ, Christ alone for salvation; and an assurance was given me that He had taken away my sins, even mine, and saved me from the law of sin and death.' It's been 282 years, but we know clearly what John Wesley experienced at Aldersgate. This Sunday in worship we give thanks for all our Aldersgate Moments.
May 31— This week we lift up our graduates and new babies. Between services (9:30-11am), wish our Grads well in the Anteroom. And bring diapers (any brand, sizes 1 or 2) for the Kostelka's baby. This is a week we celebrate one another's joys together! This is what makes us church family!